Welcome
The Coast Salish peoples of British Columbia have been carving stories for generations. This website is a contemporary tribute to a traditional house post created by Aaron Nelson-Moody. As you explore the site, you'll see his original sketch transform into the complex and playful art form that's standing today.
Can a post be art?
House posts literally held up the roofs of traditional Coast Salish longhouses, including those of the local Coast Salish Skwxu'7mesh, Tsleil-Waututh, and xʷməθkʷəy̓əm peoples. They were carved to reflect the character and values of the home. The art was in choosing and interpreting which elements to share.
Past, present, and future
This house post was commissioned to mark the British Columbia Institute of Technology's 50th anniversary. It was carved by artist Aaron Nelson-Moody/Tawx'sin Yexwulla from a Western Red Cedar log estimated to be over 800 years old.
Three faces look towards the past, present, and future—the themes of our 50th anniversary celebration. While the colours are contemporary, the composition pays tribute to an ancient design found on a mountain-goat-horn bracelet. Those bracelets were the product of the specialists who hunted the goats in the high alpine, and carefully carved the horns as gifts to recognize special women.
Carved code
House posts often contain elements that help proclaim the stories of where they stand. Carved into BCIT's house post is a QR code, a nod to the wide range of technology taught at BCIT. The QR code also serves as a bridge between Aboriginal storytelling culture and a generation sharing its stories through the lens of a mobile device.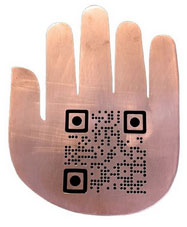 Where it stands
BCIT's house post was officially unveiled in its permanent home on June 10, 2015, and will stand as a legacy for decades to come. While it's not holding up a roof, you can find it in the Gateway building on our Burnaby campus.