Indigenous Services at BCIT
Indigenous Services is dedicated to supporting indigenous students on their journey through BCIT. The team offers help with the admissions process, tips and support to succeed in school, and a gathering space to connect members of the community with their peers.
Hosting the community:
Indigenous gathering space
Elders in residence
Indigenous speaker series
Sweat lodge ceremonies
Help with scholarships and financial aid
Tips for apply to and studying at BCIT
Peer-to-peer mentoring
Access to computers and photocopiers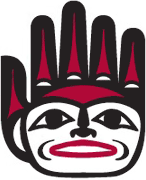 Snewayelh, which means "teachings", is the logo for BCIT's Aboriginal Services. Raised in the Coast Salish welcome gesture, the hand symbolizes the transfer of knowledge from one generation to the next. Snewayelh was designed by Chief Ian Campbell of the Squamish Nation.
Connect with us online: